When inviting friends to see in the new year over a few drinks, what drinks do you serve?
Champagne, or other sparkling wine, to toast midnight, obviously.
But how about a few other fun tipples.
Gin
Sloe gin can also be served as a Sloe Gin Fizz Royale – a dash of sloe gin in the bottom of the glass topped up with sparkling wine.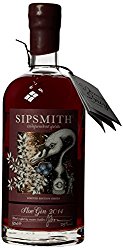 Atholl Brose
How about a favourite tipple of Queen Victoria? The Scottish drink, Atholl Brose has long been a part of Hogmanay (New Year's) celebrations. It's a mixture of oat milk, whisky, cream and honey. Could the ingredients be more typically Scottish?
The drink originates back in the late 1400s, with the first official recipe for Atholl Brose recorded in 1475. The story goes that Lord of the Isles, Iain MacDonald, was leading a rebellion against the king. The Earl of Atholl, was sent to capture him and discovered the chieftan regularly used a certain well for drinking water. The Earl ordered the well be filled with whisky, oats and honey. When the rebels drank from the well, they loved it so much they stayed there and were captured.
Try making your own Atholl Brose…..
Sean Murphy's recipe for Atholl Brose requires
• One bottle of Scotch whisky 
•  1/2 Pint of double cream
• 450g of clear Scottish honey
• One handful of fine ground oatmeal
"Step 1: Combine the oatmeal and whisky in a shallow container. Cover with linen and leave in a cool place for several hours or overnight.
Step 2: Remove the liquids from your oat meal and whisky mixture. Use linen or a spoon and strainer to squeeze every last drop of whisky out of the oat meal solids. Discard the oats.
Step 3: Add cream and stir.
Step 4: Gently whisk in honey, until dissolved.
Step 5: Stir the final mixture well (according to tradition, this should be done with a silver spoon). Pour into a bottle for storage.
Step 6: Store bottle in fridge for up to a week, Atholl Brose is at its best when given a few days to mature, however it tastes great freshly made too.
Step 7: Serve chilled from the fridge or over ice. "
Join our mailing list
Sign up for the City Adventurers newsletter for news and offers adventures to experience, including spirit and cocktail tasting and a honey beer experience.