Graffiti
The early 1980s graffiti boom gave art back to the people, turning the streets into art galleries. In Brixton graffiti was seen as a way to brighten the area rather than as a problem. Consequently, the council began commissioning street art. Brixton now has a lot of art adorning it streets, which the London Mural Preservation Society maintains. Some is by international street artists, while other works are by local community groups.
Now one of these works of art is becoming listed.
Lambeth Council has confirmed that the mural of David Bowie, located in Tunstall Place, will be listed to ensure its protection.
Lambeth Council are also considering renaming the street name to honour the local born music icon who died earlier this year.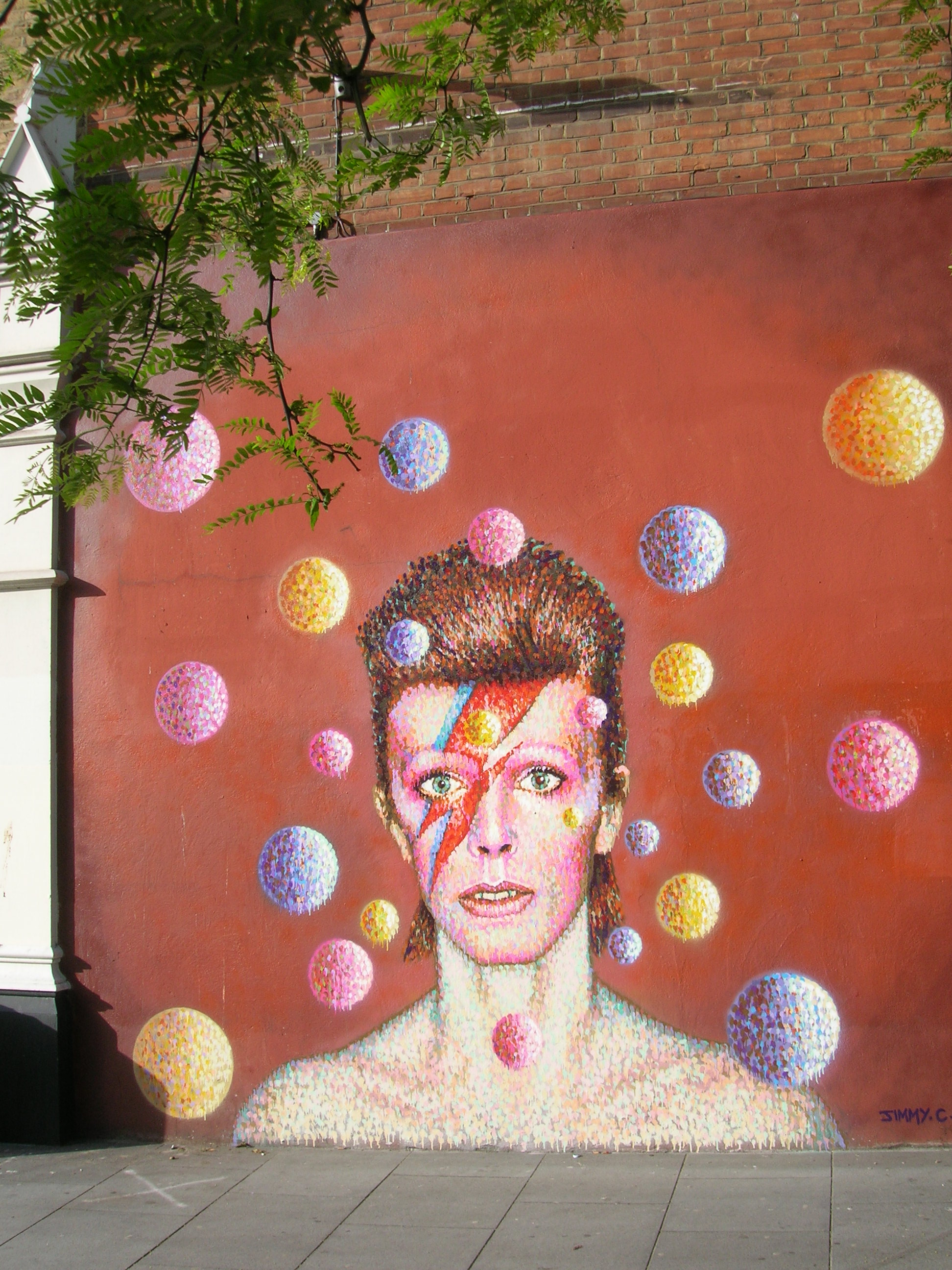 Lambeth Council are reported as stating: 'Lambeth council is set to locally list the David Bowie mural beside Morley's in Brixton that became a shrine to the artist who died in January. Local listing would protect the mural and the council is also considering renaming the area where the mural is in Tunstall Place. The council is in contact with Bowie's family about the many suggestions for a permanent memorial, including statues and place naming.'
James Cochran
The Aladdin Sane-inspired mural was painted by James Cochran in 2013 to coincide with the V&A's "David Bowie Is…" exhibition and the parallel "Many Faces of David Bowie" show at the Opera Gallery. James Cochran, or Jimmy C, chose Aladdin Sane as it lent itself to his "aerosol pointillism" style – large pictures created using small dots of spray paint.
Quoted in the Evening Standard, Cochran said "I work on the street so I thought it would be logical to do something on the street. I've always admired Bowie as an artist. I love his music and his songwriting, and his lyrics were incredible poetry. I just had incredible respect for him as someone reinventing himself every decade with a fearless approach and non-stop output and creativity. He was an inspiration to me so I was happy to pay tribute to him."
Brixton Street Art
As well as the iconic Bowie mural on the Morley's department store, opposite the Tube station, there is a wealth of street art to be discovered around the area.
Treasure Hunts in London organise the Street Art in Brixton Treasure Hunt. Blurring the lines between street and public art, this hunt features commissioned works and works by known graffiti artists. The next hunt is on Saturday 14 May 2016 at 2pm. Tickets are available at www.treasure-hunts-in-london.co.uk