We've been missing treasure hunts during lockdown, so the City Adventurers were pleased to see tickets for a time travel treasure hunt available online. Not only was this going to be a treasure hunt, it was also going to be a heritage based treasure hunt! What more could we ask for?
Written in collaboration with Jon The Storyteller by the students of the University of Brighton it took us on a journey through time in Hangleton.
Today, Hangleton is a residential suburb of Hove, part of the English city and coastal resort of Brighton and Hove. The village has seen its population change dramatically over time. Settlements were made in the area from Roman time, through Anglo-Saxon to the medieval era.
Unfortunately, the village started to decline in the fourteenth century and was badly hit by the Black Death. By the early 20th century the parish only numbered 100. However, during the 20th-century rapid development saw the population grow and by 2013 it exceeded 14,000.
Hangleton was one of the churches granted by William de Warenne II in about 1093 to the priory of Lewes for the souls of his father William, his mother Gundrada, and his brother Rainald. So it's a little surprising he was chosen as the "villain" of the hunt – the person who stopped time turning and caused us to go on the time travel treasure hunt. But I suppose you have to start somewhere and he is a real character from history.
We were not sure how a treasure hunt over zoom was going to work and were pleasantly surprised how well it was enacted. At certain points in the story we, the audience, got to decide which path in time to follow and make further discoveries. It was a fun afternoon, led by a charismatic host.
The Time Travel Treasure Hunt was produced as part of the 2021 Brighton Festival. Although you have missed the live performances you can still take part at bit.ly/3t4mj9q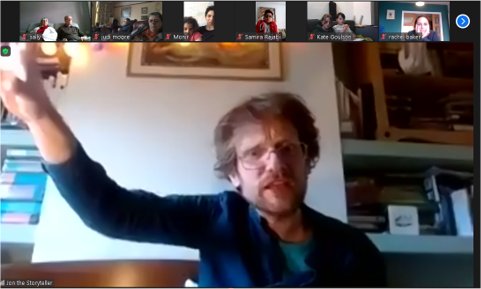 ---
Join City Adventurers and start exploring…..
Join our club for people who want to live life to the full. Just click the link and join the club