The City adventurers were pleased to be back on the road again and spending a couple of days in the Oxford/Cotswolds area.
Cotswolds Villages
We were able to visit Moreton-in-Marsh, which is the only town with a mainline train station in the Cotswolds Area of Outstanding Natural Beauty. Moreton-in-Marsh hosts a market every Tuesday (dating to a 1227 charter). As we went on a Thursday, we missed the market but were able to explore the shops, before we were back on the coach heading for Broadway.
Another historic Cotswold village, Broadway has a pretty High Street lined with horse chestnut trees, as well as a mixture of period houses and picturesque honey coloured Cotswold stone cottages which have lured visitors for centuries.
The day we visited they were setting up for the Broadway Arts Festival.
Cream Tea with a difference
By the time we got to Broadway we were in need of an afternoon cup of tea. We found a little table outside in the sunshine and went to order a cream tea in the Leaf & Bean Tea and Coffee Lounge. We'd never been offered a ginger scone served with cream and honey before. It was delicious and we recommend you try one when you visit Broadway..
Rousham Gardens and Bichester Village Trip
Although the sun had been shining we set off for a trip to the Cotswolds, when we awoke the next day, the rainclouds were threatening. Yes, we should have taken raincoats with us, after all this was Britain, but we hadn't and now we were regretting that decision.
Our first stop on the journey home was Rousham Gardens.
Described in the guide as a place that should be "a pilgrimage for students of the work of William Kent. Rousham represents the first phase of English landscape design and remains almost as Kent left it, one of the few gardens of this date to have escaped alteration."
The house, built in 1635 by Sir Robert Dormer, is still in the ownership of the same family. it is only open to pre-booked appointments with a mimimum fee of £150. However, the gardens are open to the public from 10 am each day without pre-booking. Tickets for the garden are £8 per person. This is a private garden and children under 15 and dogs will not be admitted.
There is a small car park available which is accessed via an archway in what i assume was the stable block. We easily found a parking spot and headed to the toilets and pay station. Unfortunately, at this point, the slight drizzle turned into a downpour. Without suitable clothing we decided to give the gardens a miss. Such a shame.
Back in the car we headed for Bichester Village.
This is an outlet shopping centre on the outskirts of Bicester. It opened in 1995 and contains mainly luxury goods and designer clothing stores. It's not an indoor shopping mall, but a "village" with terraced shops. Great in the sunshine, but not so good in the rain. Luckily, the shower soon stopped so we didn't get too wet.
We had to go through a security temperature check before we could enter and everyone had to wear face coverings. Some shops we were able to walk straight in, others we had to queue as they'd reach their maximum numbers. Still more had instituted digital waiting lists, and required you to book a slot to enter. Some stores had even closed their digital waiting lists as there were so many people wanting to shop!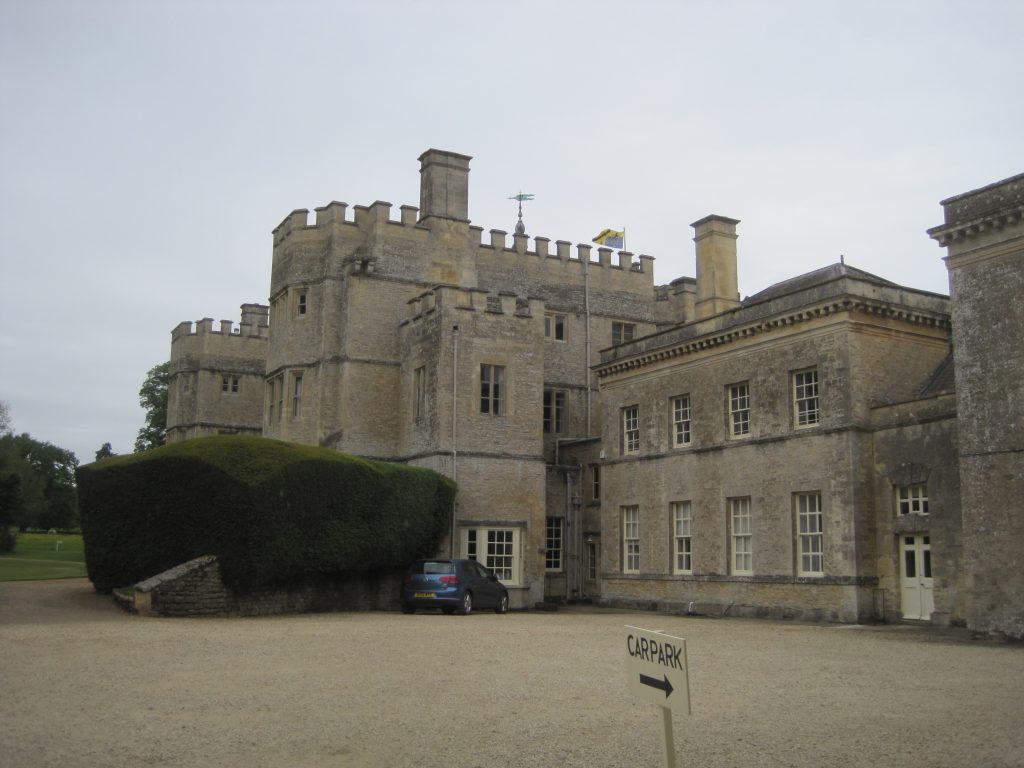 ---
Explore – Discover – Solve and Have Fun!
Be the hero of your own adventure!
Click here to join City Adventurers