One morning in 1892, in Fall River, Massachusetts, a prominent businessman and his wife were axed to death in their home. The prime suspect was their daughter Lizzie.
Lizzie Borden's name passed into American legend as the story of her trial for the murder became a media sensation. There was even a rhyme about the case.
The rhyme suggests she was guilty but, in fact, Lizzie was tried and acquitted for axe murders of her father and stepmother. No one else was charged with the murder of Andrew and Abby Borden. Speculation about the crimes continues more than 100 years after the axe murder.
After the trial, Lizzie began using the name Lizbeth A. Borden and moved to a large, modern house the hill neighborhood of Fall River. Despite the acquittal, Lizbeth was ostracized by Fall River society. She died in 1927 and is buried in the family plot.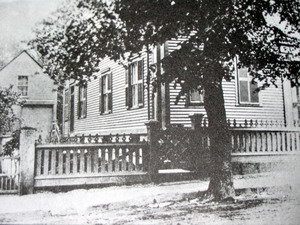 Lizzie the musical
The story has been made into a stage musical by Tim Maner, Steven Cheslik-DeMeyer and Alan Stevens Hewitt. Fronted by four women and a  six-piece rock band, LIZZIE is full of rage, sex, betrayal, and bloody murder.
The UK premiere of this rock musical LIZZIE starts at the Greenwich Theatre, presented by Fredericia Teater in association with Aria Entertainment. The show runs from Wednesday  22 February until Sunday 12 March 2017.
[youtube https://www.youtube.com/watch?v=-GllFdVmOTk]
video courtesy of YouTube – https://youtu.be/-GllFdVmOTk
copyright retained by video producer.