National Political figures
Parliament Square is home to statues of British, Commonwealth, and foreign statesmen.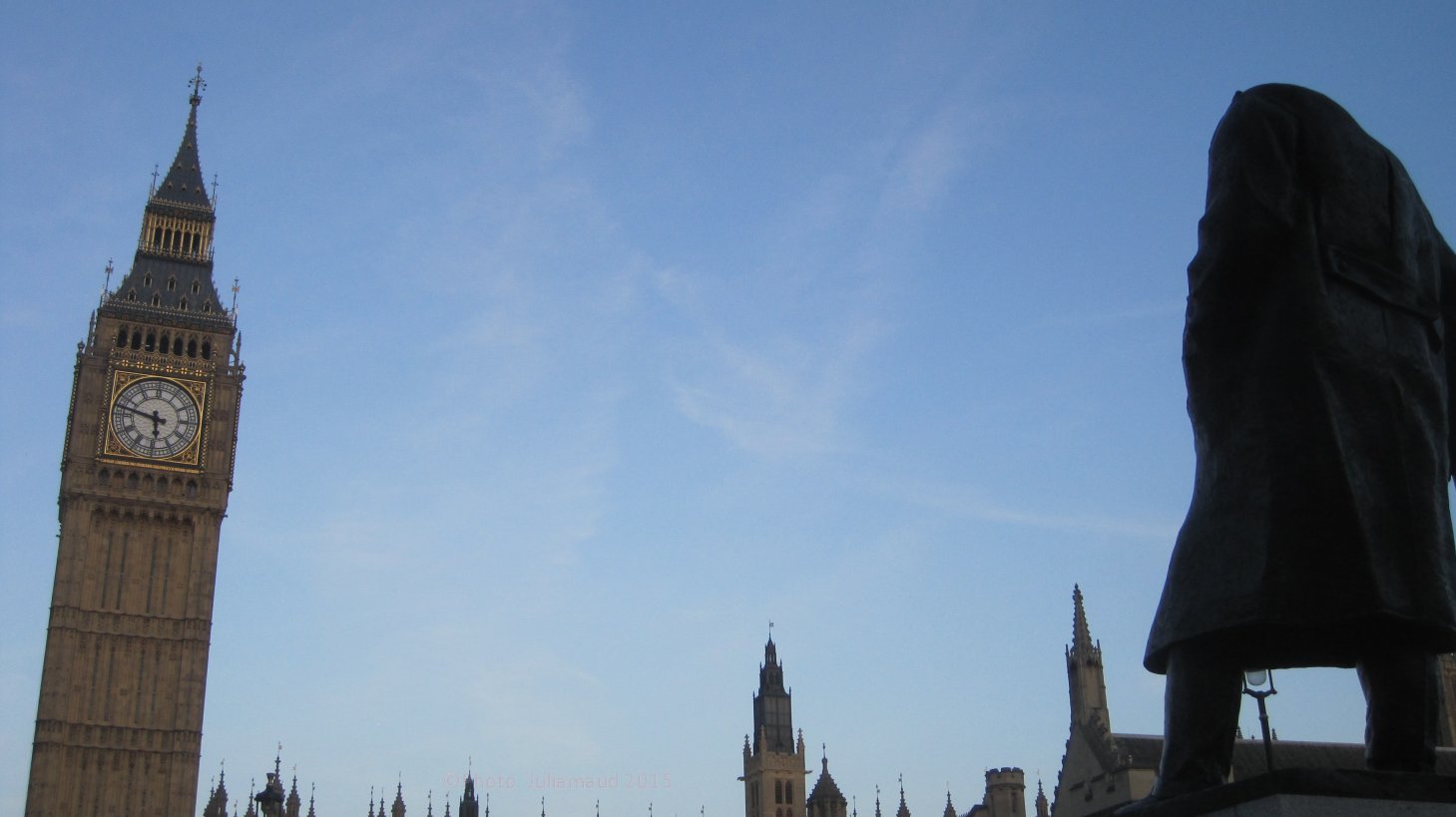 British statesmen
Sir Winston Churchill
Churchill indicated where he wanted a statue of himself to be placed in Parliament Square. He now stands with a commanding view overlooking the Houses of Parliament. The bronze statue by Ivor Roberts-Jones, is 12 feet (3.7 m) high and stands on a granite pedestal . The pose shows Winston Churchill standing with his hand resting on his walking stick and wearing a military greatcoat.  It was unveiled by Lady Clementine Spencer-Churchill in 1973. The unveiling was attended by Queen Elizabeth II, the serving Prime Minister (Edward Heath) and four former Prime Ministers.
 David Lloyd George (1863 – 1945)
Although statues of Lloyd George and Churchill flanked the arch leading into the chamber of the House of Commons, there were no outdoor representation to Lloyd George in the Capital until 2007. The David Lloyd George Statue Appeal, a charitable trust supported in part by the Prince of Wales, funded this statue designed by Glyn Williams. The 8 feet (2.4 m) tall bronze statue of David Lloyd George is on a granite pedestal with a Welsh slate plinth. It was unveiled in October 2007 by the Prince of Wales and Duchess of Cornwall.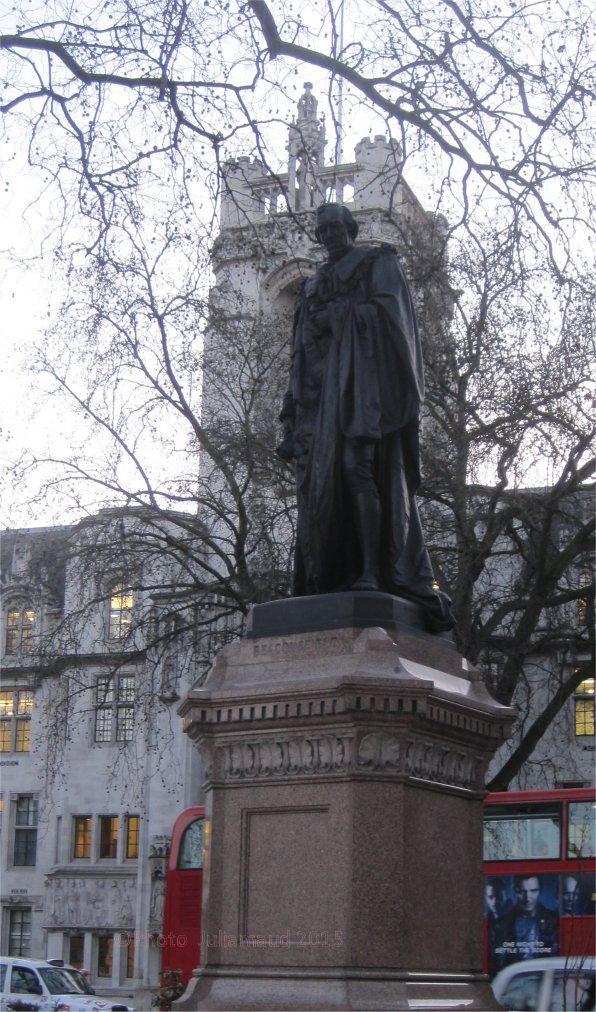 Benjamin Disraeli – Earl of Beaconsfield (1804 – 1881)
The red granite plinth just says Beaconsfield. Queen Victoria created the Earldom of Beaconsfield and the statue commemorates Benjamin Disraeli. He was Prime Minister twice, the longer term from 1874 – 1880. He remained Prime Minister, even after becoming  an Earl, by explaining government policy from the House of Lords. The bronze statue on a granite pedestal, by sculptor Mario Raggi, was unveiled on 19 April 1883. It became a "shrine" of the Primrose League, a conservative association established in Disraeli's memory, who left wreaths in front of it every year on the anniversary of his death.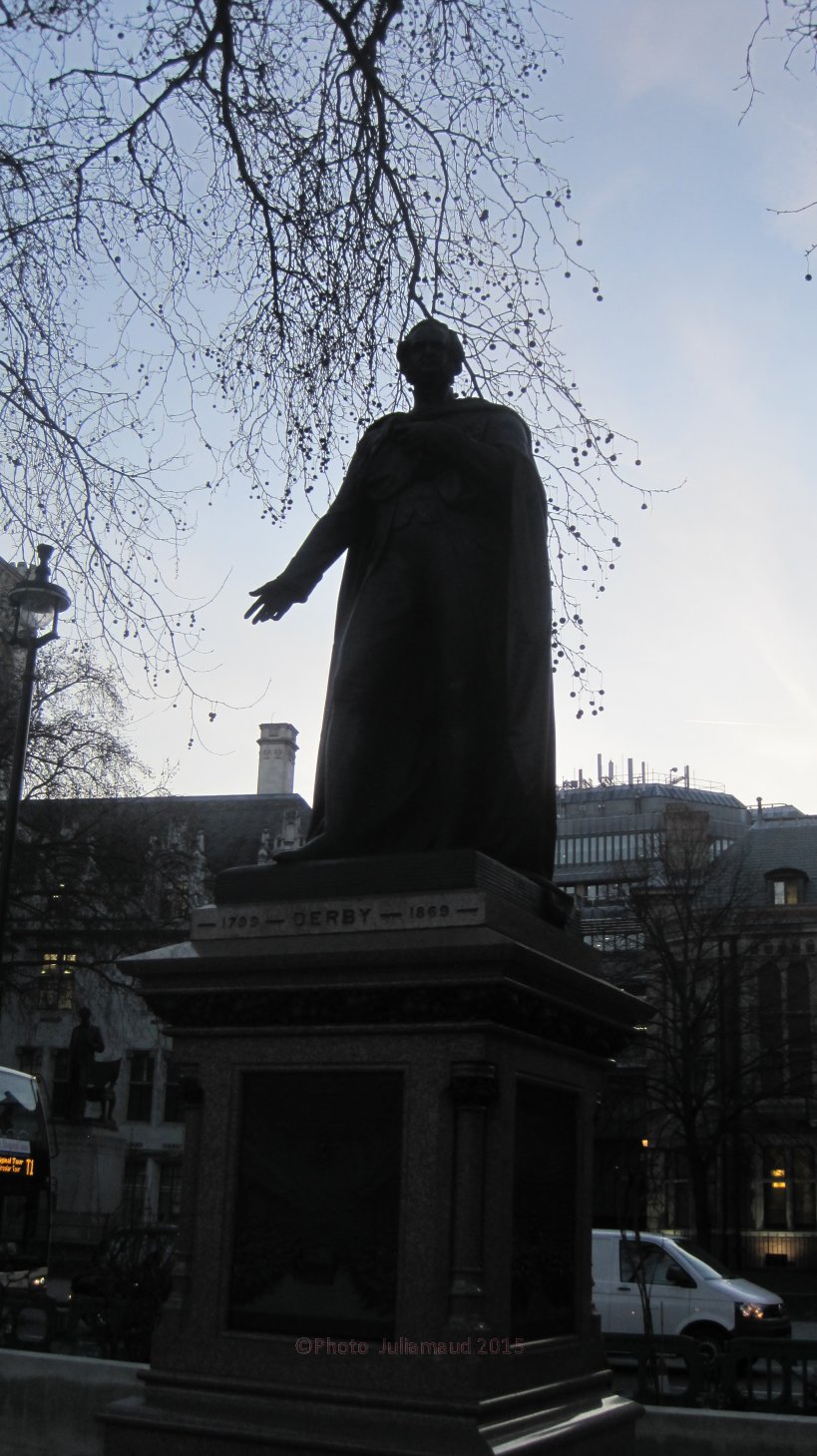 Edward Stanley – Earl of Derby
Although three times Prime Minister of the United Kingdom as well as the longest serving leader of the Conservative Party, this statue shows Edward Smith-Stanley, 14th Earl of Derby wearing his robes as Chancellor of Oxford University. The bronze statue, by the sculptor Matthew Noble, is on a granite pedestal and the bronze reliefs around the pedestal, depicting scenes from his life, were by Horace Montford. It was unveiled on 11 July 1874. He is one of only four British Prime Ministers to have three or more separate periods in office, although his ministries all lasted less than two years, and totalled 3 years 280 days. His main achievement was the passing of the Reform Act which doubled the number of working men eligible to vote.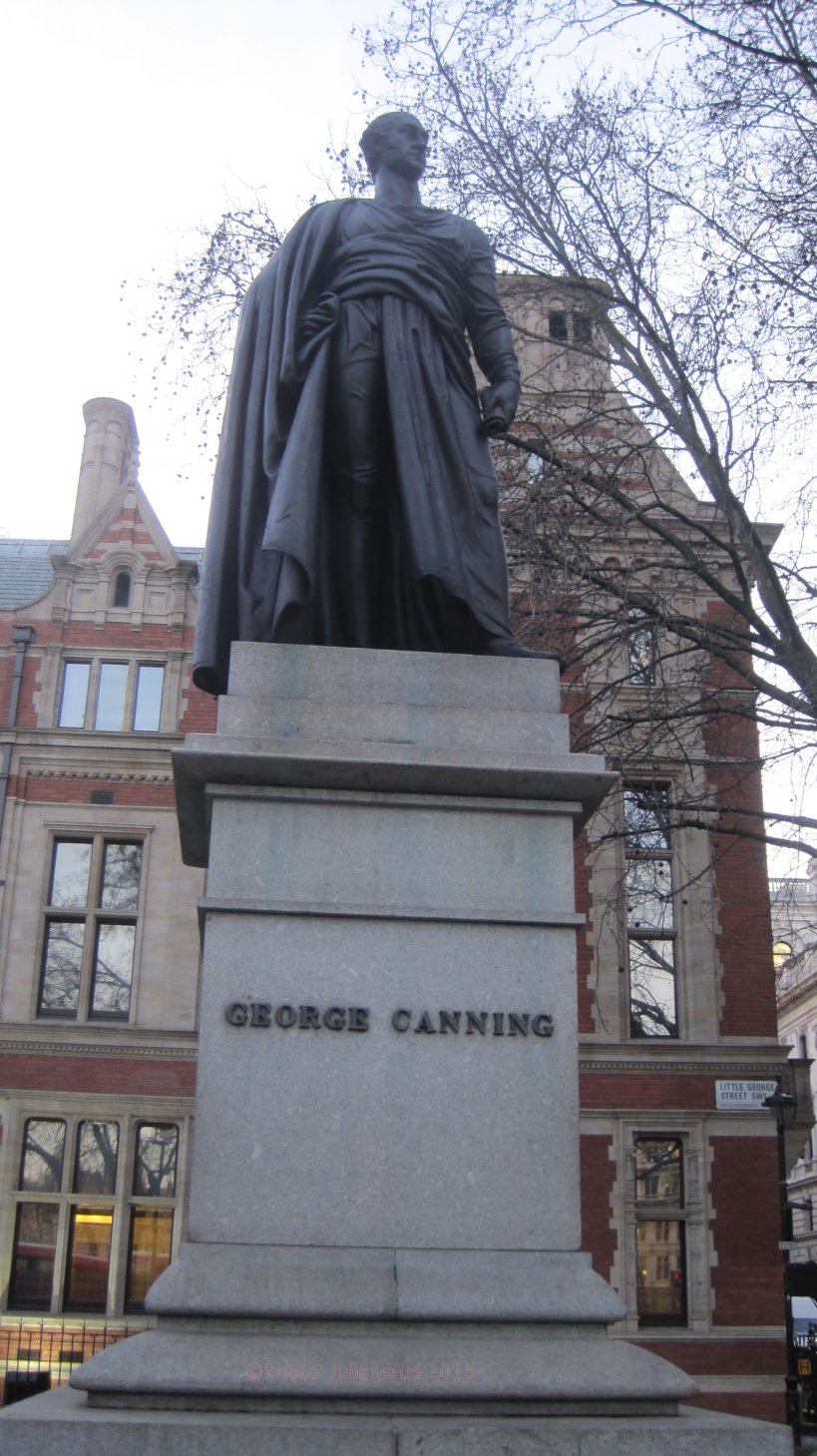 George Canning (1770 – 1827)
George Canning was briefly chosen as Prime Minister by George IV after  Lord Liverpool suffered a severe stroke. Neither the Duke of Wellington nor Sir Robert Peel agreed to serve under Canning, causing the Tory party to split between Peel and Wellington's Ultra-Tories and the Canningites. Canning's total period in office remains the shortest of any Prime Minister of the United Kingdom, a mere 119 days. He is buried in Westminster Abbey.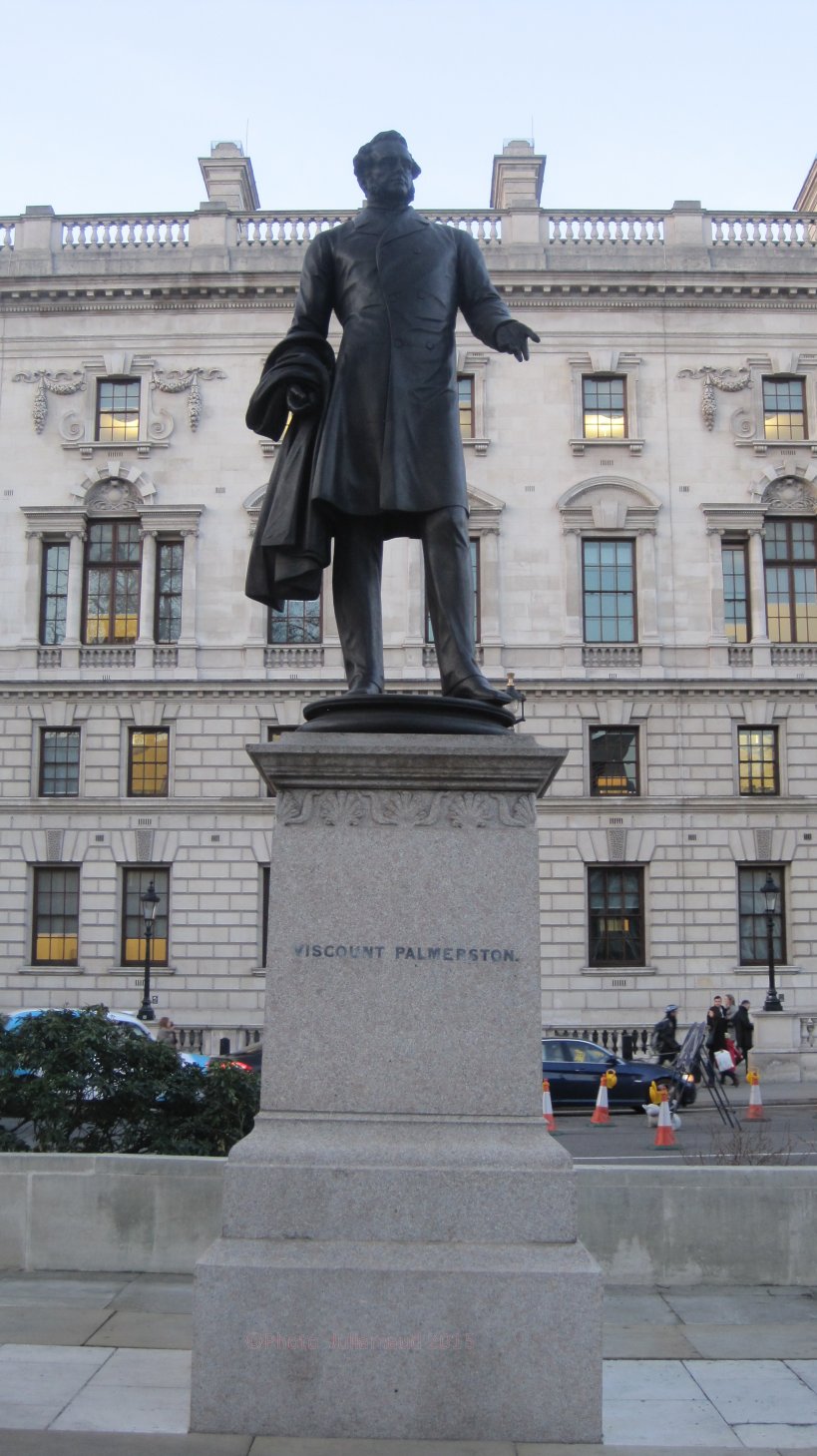 Viscount Palmerston
The bronze statue of Viscount Palmerston, by Thomas Woolner, depicts him in middle age, before he became Prime Minister. It was unveiled on 2 February 1876.
Palmerston served in government as both a Whip and a Conservative and spent nearly 58 years in high office. Serving as Prime Minister 1855-1858 and 1859 – 1865, he is the only Prime Minister to be over 70 years old at the beginning of his first term and is the most recent British Prime Minister to die in office. He opposed the working Class getting the vote.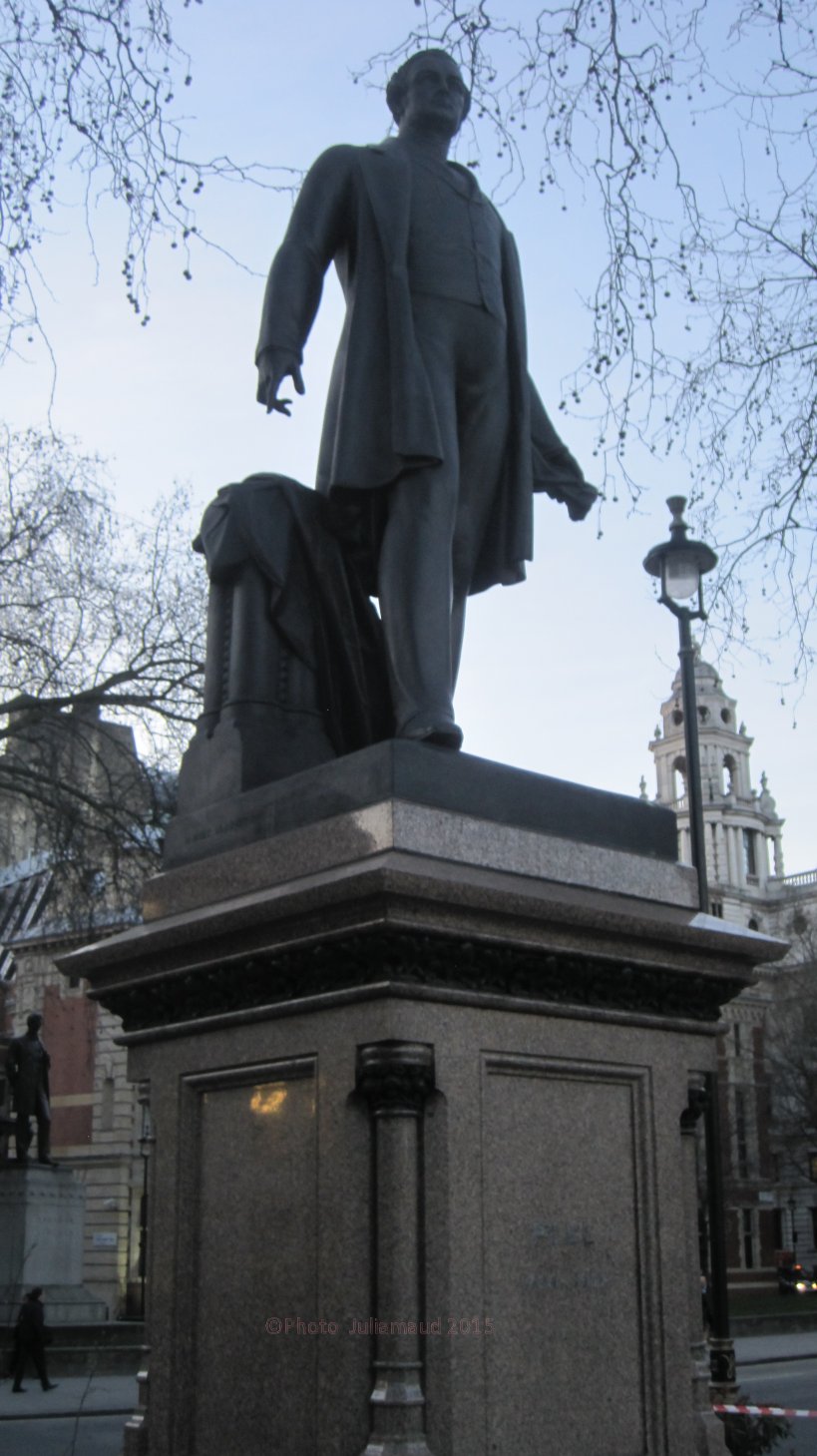 Sir Robert Peel (1788 – 1850)
This bronze statue by sculptor Matthew Noble stands on a granite pedestal.
Sir Robert Peel twice served as Prime Minister, 1834-1835 and 1841 -1846. At the general election of January 1835, Peel issued his statement of policy, the Tamworth Manifesto. This document is often seen as the basis on which the modern Conservative Party was founded. Historian A.J.P. Taylor says: Peel was in the first rank of 19th century statesman…he created the modern Conservative Party on the ruins of the old Toryism. In 1843 Peel was the target of a failed assassination attempt; a criminally-insane Scottish woodsman named Daniel M'Naghten stalked him for several days before accidentally killing Peel's personal secretary Edward Drummond instead.