The double album TOMMY was released in the UK on May 23, 1969. It catapulted British band The Who into rock legends and popularised the notion of  'rock opera'.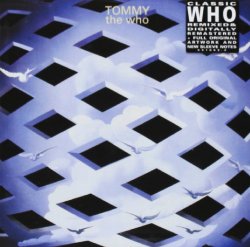 Chas Early  notes that it was Classically-trained Who manager Kit Lambert and the rest of the band who encouraged songwriter Pete Townshend to work on the idea of "a boy turned deaf, dumb and blind by a childhood trauma who learns to experience the world through 'vibrations'."
It is stated on the Who's website that " The final TOMMY performance, until their 25th Anniversary reunion tour in 1989, was at Londons Roundhouse on 20 December 1970, when they dedicated it to their support act, an upcoming singer-songwriter/pianist called Elton John."
The musical based on the album was filmed in 1975 under Ken Russell's direction. Roger Daltrey played the titular role of Tommy Walker and the Who's former support act took on the role of The Pinball Wizard.
The stage version of Tommy had a short run in San Diego, before moving to the St James Theatre in New York in 1993. It  officially "Opened" on 22 April 1993 and closed on 17 June 1995, after 899 performances.
Songs courtesy of Youtube. Copyright retained by video producers.