The Blackpool Illuminations have been an annual event in Blackpool for over 100 years. These world famous lights stretch for six miles along the promenade, a bit like Christmas lights but in the autumn. Switch on takes place on the Friday night following August Bank Holiday Monday.
I'd not been to Blackpool, so visiting the Blackpool Illuminations was on my bucket list.
Having booked into our hotel, we ordered a cab to take us to the promenade. We'd wrongly assumed that the special illuminated trams were like hop-on-hop-off buses so were surprised that, when the cab dropped us as a tram stop, it was only for ordinary trams. Turns out you can only board an illuminated tram at the Heritage Tram stop by the Pleasure Beach.
No matter. We could still enjoy the lights, which stretch along the promenade past all three piers and Blackpool Tower, by walking along the promenade.
We set off towards the central section of seafront and Central Pier. This area features brightly coloured seafront shops, arcades and attractions, including Coral Island. This is also where you can pick up a horse drawn Cinderella carriage ride from pier to pier.
Just before North pier, we reached the Blackpool Tower. Light shows are projected onto the building, and the tower itself lights up from it's top to toe. At 518 feet tall, it uses 25,000 LEDs and can be seen for miles around.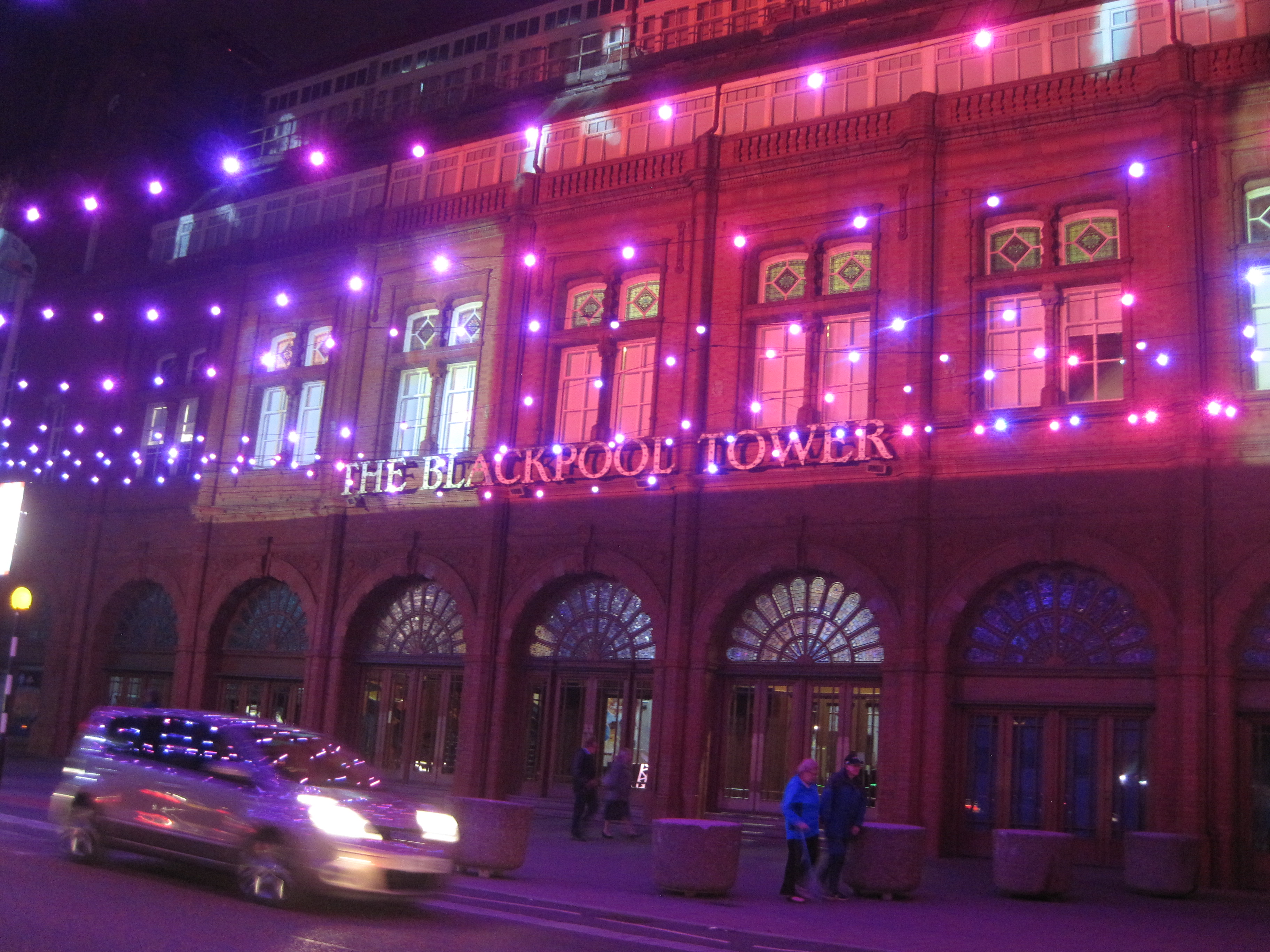 Blackpool Tower – photo by Juliamaud
After a stop for dinner, we continued our on our way past the North pier. The lights, unfortunately, petered out. With a large section of darkness ahead of us, we turned back towards the centre. However, looking behind us, we noticed that there appeared to be lights further along the bay.
If you've never been, it's worth a quick visit.
History
The illuminations were originally founded in 1879. The first Switch On Ceremony was not until 1934. It was performed by Lord Derby when he'd been made a Freeman of the Borough of Blackpool.
The first illuminated trams were used in 1897 with five tram cars decorated with patriotic slogans to celebrate the Diamond Jubilee of Queen Victoria. Now three Illuminated Heritage Trams run throughout the Illuminations season. The HMS Blackpool Tram is based on the Royal Navy Frigate of the same name, plus The Western Train and The Fisherman's Friend Trawler Tram. They carry the slogan "Life without Limits".
Join the City Adventurers club
Want to join the ITM Games Group mailing list and be sent details and offers for clue solving adventures and city adventures? Just click the link and join the club http://eepurl.com/dtu8ln