What is Me Time?
According to the dictionary it's time spent relaxing on one's own as opposed to working or doing things for others, seen as an opportunity to reduce stress or restore energy.
Adrienne Marks, award winning author of the book Me Time is also The ME TIME Host at RADIO W.O.R.K.S. WORLD.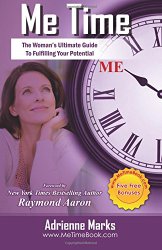 Adrienne is a woman with a passion.
She is passionate about helping people learn to give time to
themselves so they can become who they truly are.
Check out her radio show on RADIO W.O.R.K.S. WORLD.
Celebrate INTERNATIONAL ME TIME DAY
On 22 July 2016, around the clock and around the World, join in the celebration of International ME TIME Day. 
What about "US" Time?
As well as making time for ME, it is important to make time for US.
Make sure you schedule time to spend with friends and family. Sharing experiences with friends and family, forms closer connections and bonds and deepens relationships.
For ideas on experiences to share, check out THE BOOK on Social team building – What are we going to do next? –absolutely FREE *!
This book shows how to find fun activities to share. It highlights adventures that build memories and happiness. Discover how  you can have puzzle solving fun and learn how you can experience adventure and mystery solving within the city. 
Grab your FREE BOOK here *
* Just pay £3.99 for p&p