The Princess and the dragon
The story of a Princess being saved from a dragon is found in many legends. One of the earliest example of this motif is Perseus saving Andromeda.
St. George and the dragon is a medieval legend in a similar vein. This one has strong Christian overtones as St George was a Christian knight. The oldest icons depicting the saint as a horseman killing the dragon date to the 12th century.
The legend of St. George slaying the the dragon starts with a town being forced to sacrifice a young girl to a dragon each day. Princess Sabra is to be its latest victim, when St. George hears about the town. He attacks the monster, defeating it, then marries the princess.
The Pre-Raphaelites were drawn to the story due to its tale of romantic medieval chivalry, and the legend of St. George became a favorite subject for Pre-Raphaelite Painters.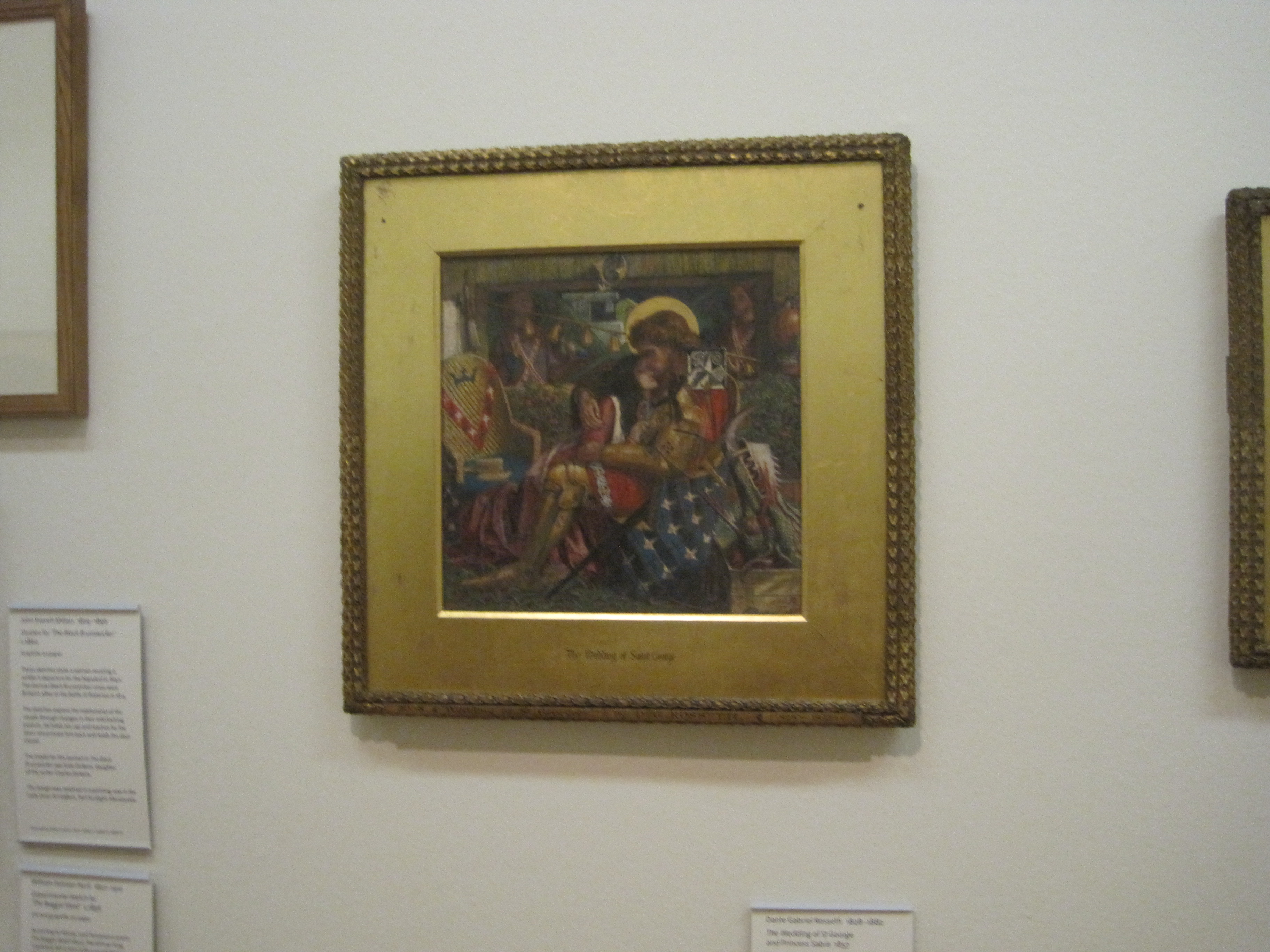 The Wedding of St George and Princess Sabra 1857 by Dante Gabriel Rossetti
"This work was executed while Rossetti and other artists were decorating the Oxford Union with medievalist murals. In Oxford, Rossetti saw Jane Burden, later Mrs William Morris, and immediately asked her to pose for him. She is the model for Princess Sabra, threading a lock of her hair through St George's helmet." Extract from Tate Britain Gallery label, August 2004
Saint George's Day
In 1222 the Council of Oxford declared April 23rd to be St George's Day although St George did not become the Patron Saint of England in 1348. In 1415, St George's Day was declared a national feast day. It was a holiday in England until the end of the 18th Century. Saint George's Day is celebrated on April 23rd but is no longer a national holiday. 
Order Of The Garter
The Most Noble Order of the Garter was founded by King Edward III, with present day new members continuing to be ordained on April 23rd. It is the highest order of chivalry and the third most prestigious honour in England and the United Kingdom. It is dedicated to the image and arms of Saint George, England's patron saint.
Searching for Treasures
The Wedding of St George and Princess Sabra was one of the treasures found by treasure hunters on the Love and Marriage hunt. If you'd like to discover treasure on a  Treasure Hunts In London adventure visit