The plot for this movie involves a suspicious death – of course – and an investigation by spy-turned-private-detective Charles Hayward, played by Max Irons.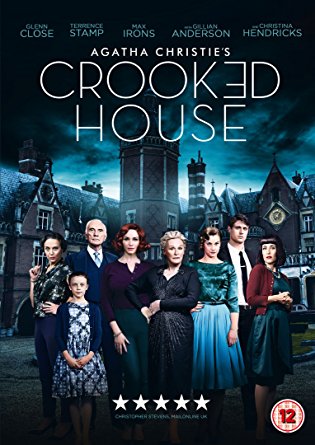 Aristide Leonides, a wealthy and ruthless tycoon, has been poisoned. Someone had laced his regular insulin injection with eserine from his eye drops.
The old mans grandaughter, Sophia, is convinced he has been murdered by a member of their idiosyncratic family.
She hires Detective Hayward, her former lover, to solve the crime. He duly arrives at the crooked house of the title and discovers a sprawling estate filled with bitterness, resentment and jealousy.
I knew nothing about this classic Agatha Christie story when I sat down to watch it, other than the fact it had an all-star cast. The top billing in this twisted tale, according to my listing magazine, was given to Gillian Anderson. However, I found Glenn Close to be much more prominent as the family matriarch Lady Edith de Haviland. Other notable names included Terence Stamp, Amanda Abbington, Stefanie Martini and Christina Hendricks.
With such an obnoxious family it was difficult to like any of the characters. Consequently, this film will not make it onto my list of favourite Agatha Christie adaptaions.
But make up your own mind by checking it out on Amazon