Bernard Louis De Koven was born on October 15, 1941. He was an American games designer who was a beloved inspiration to generations of game players and designers.
In spring 2017, De Koven notified his blog followers that he had terminal cancer and only about one year left to live. He asked that they continue to spread the joy of play.
He died on 24 March 2018 at the age of 76.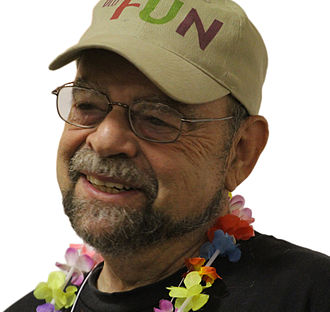 Spreading the joy of play
Bernard De Koven wrote A Playful Path and The Well Played Game. He was well known for his contributions to the New Games Foundation, his pioneering work in computer game design, and for his long-running web site, deepFUN.com.
In 2006 he won the Ifill-Raynolds award for "outstanding achievement in the field of fun" from the North American Simulation and Gaming Association.
Fun Is Easy
In 2011, his article Fun is easy  showed that fun isn't a hard thing, but remembering to have fun is hard.
The politics of public playfulness
In a TED talk from 2015, De Koven describes and illustrates the power of adult playfulness. Engaging the audience in several of his more playful games, he demonstrates how joyfully adults welcome the opportunity to expose their playful selves.