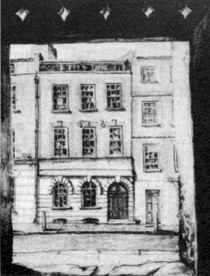 I was recently given the opportunity to join the East London Humanists for guided tour of 19 Princelet Street. This building is Europe's first Museum and Exploration of Immigration and Diversity.
The elegant Georgian house was built in 1719 and became  the home of a Huguenot family, who had escaped from persecution in France. It was sub-divided into lodgings and workshops for silk weavers.
Later the house became home to Irish immigrants. These were followed by Jewish immigrants from Eastern Europe. In 1869 the Jews erected a synagogue in the garden and created a space underneath where people could gather.
Immigrants, Emigrants, and Migrants
According to diffen.com, the difference between an emigrant and an immigrant "relates to the point of view of which country is the country of origin and which is the destination country."
Emigrant: One who leaves his own country to reside to another.
Immigrant: A person who comes to one country from another to settle.
Visiting the Museum
19 Princelet Street is normally only open for group visits and learning, by advance booking.  It is managed by the Spitalfields Centre charity (registered charity 287279), which was set up to preserve the building, to create  a permanent exhibition and provide an educational resource.
More information about 19 Princelet Street
19 Princelet Street – http://www.19princeletstreet.org.uk/
Terry Philpot – http://www.19princeletstreet.org.uk/uploads/docs/160108_Tablet.pdf
Monica Ali – http://www.19princeletstreet.org.uk/uploads/docs/Waters.pdf
'One of the capital's finest buildings' –The Observer.
'A remarkable and moving exhibition' – Evening Standard.