Killing Them Softly is a black comedy rated 18. George V Higgins' 1974 novel Cogan's Trade has been adapted and updated from 1970's Boston to New Orleans in 2008.
Brad Pitt plays professional enforcer Jackie Cogan, the assassin who likes to kill people softly, from a distance. He hates his hits begging for mercy so he can't kill up close and is unable to kill anyone he's met. A bit of a flaw in a top rated hit man you may think.
Cogan is hired to target the jerks responsible for robbing a Mob protected card game. However, he subcontracts the job to his old friend Mickey, a boozy, broken old assassin.
Directed by Andrew Dominik, the film cast includes Ray Liotta, Sam Shepard, Ben Mendelsohn, James Gandolfini, Richard Jenkins, Scoot McNairy, Vincent Curatola as well as Brad Pitt.
Killing Them Softly – Official Trailer (HD)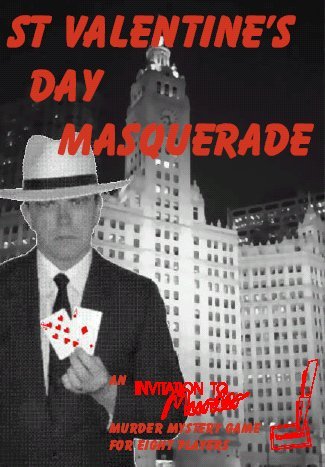 Want to hold a mob based murder mystery party with a difference? Set in Chicago in 1923, ITM Games offers a "Who Didn't Do It" to play at home.
St Valentine's Day Masquerade is a game for 8 Players and costs £ 20 from
ITM Games
.
Danny 'Diamond' Ditali, the infamous rum runner and gang boss has a problem. Last night he ordered 8 hits by eight members of his gang. But now he hears that one of his victims is now in the hands of the FEDs, and squealing like a pig. Yet all his gang reported success, so how can this be?
Who lied to him? Who is still alive? Buy the game from
ITM Games
and find out!