The 1980's saw the rise of newspaper moguls.
Robert Maxwell build an extensive publishing empire and by the 1980's owned various companies including the Daily Mirror, the Sunday Mirror and  the Scottish Daily record.  On his death in 1991, huge discrepancies in his companies' finances, including the Mirror Group's pension fund, were revealed.
Rupert Murdoch, took over the News of the World in 1969 and bought The Times in 1981. In 1986 he caused bitter industrial disputes when he instituted new electronic publishing technologies at his UK printing operations. By 2000 Murdoch's  News Corporation owned over 800 companies in more than 50 countries. However, in July 2011 Murdoch faced allegations of bribery and corruption and his companies stood accused of phone hacking.
By comparison, Maximillian Malist,  appears to be a saint!
Who?
Maximillian Malist of course!
The extrovert publisher, businessman and star of No Malist Aforethought.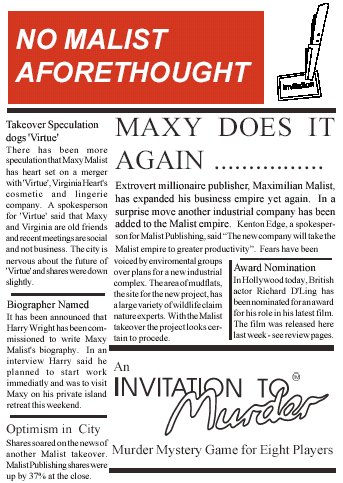 Set in the 1980's, No Malist Aforethought  is a murder mystery party game for 8 guests. You get to play the parts of trusted friends, family and associates of Maxy Malist, the extrovert owner of  the Malist Publishing Empire. You take on the dual roles of the suspects and investigators as you try to uncover the guilty party.
As the game begins, you arrive on Maxy Malist's private island. You have been invited to hear about his plans to publish his biography. He has a lot of stories to tell, including how he took over the small family business and built it into a multi-national company. Such a move has not been without costs. Many people have been trampled in the process. Were you one of Maxy's victims and are you seeking revenge?
As you gather and reminisceabout the past, what stories can you and your fellow guests tell about Maxy? Or, perhaps of more  importance, is what stories can Maxy tell about you…..
You could play, Minnie Malist, Maximillian's younger sister. She acts as housekeeper to her brother and has always suffered from being in his shadow. Or you could play Kenton Edge, a director of one of Malist's  companies, who is attending with his PA, Theresa Green. Virginia Heart and Richard D'Ling are friends of the family, as are guests Alan and Bunty Cholic. All are eager to meet Harry Wright, the biographer working with Maxy.
Unfortunately, Maximillian Malist will not live to see his book in print……
This and other murder mystery games are available at http://www.itmgames.co.uk