Houdini – The Hungarian-American illusionist and stunt performer
Harry Houdini was born Erich or Ehrich Weisz on 24 March 1874. In 1876, his father,  Mayer Weisz, emigrated to the United States and changed his last name to Weiss. The rest of the family joined him in 1876.
His first stage appearance was as  "Ehrich, the Prince of the Air"on October 28, 1883 when he performed a trapeze act. He started his magic career with his brother, Theo. They called themselves the Houdini Brothers and performed during the 1893 World's Fair.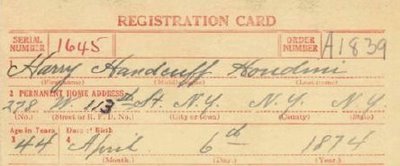 As "Harry Handcuff Houdini" he started performing escape acts and became known as "The Handcuff King".  As thegreatharryhoudini.com notes "Through the years, Houdini gained fame after repeatedly escaping from police handcuffs and jails. Harry was even given certificates from various wardens for escaping from their prisons."
His first escape trick was called "Metamorphosis." It required an assistant to be placed into a locked box. The assistant switched places with the magician within seconds of a curtain being raised.
His notable escapes include:
Mirror challenge

Milk can escape

Overboard box escape

Suspended straitjacket escape

Chinese water torture cell

Buried alive stunt
The buried alive stunt was to be the feature escape of his 1927 season. However, Houdini died of peritonitis from his appendix rupturing on October 31, 1926. The bronze casket that had been built for the illusion was used to transport his body back to New York. Houdini's funeral was held on November 4, 1926 with more than 2,000 mourners in attendance. 

Houdini's Other Interests
In 1901 Houdini made his first movie for Pathé. He worked as a special-effects consultant for them in 1916. In 1918 he signed with Octagon Films to star in a movie serial called The Master Mystery.  In 1919 he made his first Hollywood feature film, The Grim Game, followed by Terror Island in 1920. Houdini started his own film laboratory called The Film Development Corporation but gave up on the movie business in 1923.
In 1909, Houdini became fascinated with aviation, purchasing a biplane. In 1910, he became the first person to fly over Australian soil.
In the 1920s, Following the death of his mother, Houdini attempted to contact his dead mother but found that many psychics and mediums were fakes. He set about debunking them. In 1925, Houdini began a new touring show and offered $10,000 to anyone who could exhibit supernatural phenomena that he could not mirror.

Spot the mystery above?
Did you spot the mystery above?
Harry Houdini's biographies give his birth name as Erich or Ehrich or Erik, but all give the date as March 24th 1874.
So why does his draft paper give the date of birth as 6th April 1874?
Curious, huh?……..