Following on from our  tour of Christmas markets along the south coast, the City Adventurers decided to explore some of the festive displays in London.
We started by visiting the Leicester Square Christmas Market. This traditional Christmas market is held in the centre of Leicester Square. With lights hanging down from the trees, it takes on a magical air. It has a number of Bavarian-style wooden huts offering an array of goods. You can stop off for a glass of mulled wine as you enjoy at the Christmas Market or wait to see a show at the Leicester Square Spiegeltent.
Leaving Leicester Square we headed for Regent Street, passing through Piccadilly Circus and Air Street.
Regent Street is marking the 200th anniversary of the creation of Regent Street itself with the return of The Spirit Of Christmas Lights. The suspended spirits are inspired by Regent Street's Christmas lights in 1954.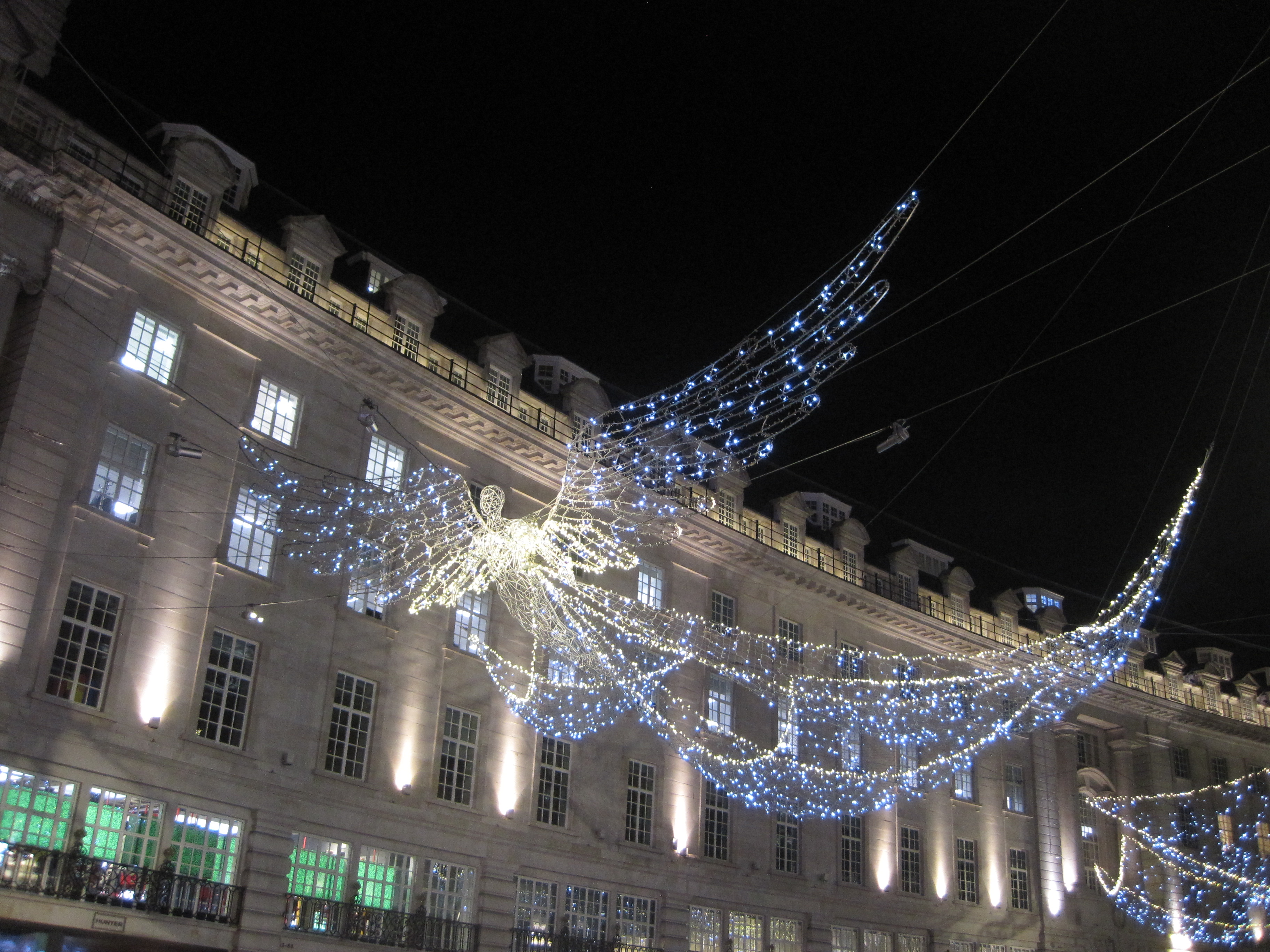 We made our way up Regents Street towards Hamleys and looked at their Christmas windows. They feature a snowy alpine scene populated with TY toys. Traditional scenes of characters with a Christmas tree, enjoying Christmas dinner etc make for an enchanting display. We were even treated to a show by dancing elves outside the stores entrance.
We reached Oxford Circus and made our way along Oxford Street towards Selfridges.
Oxford Street has brand new lights – 27 'LED light curtains' hanging above the street, made of 220,000 individual lights. They have falling snow flakes displayed on them and festive messages and are 90% more energy efficient than traditional Christmas lights. Unfortunately they are also difficult to photograph.
There are still traditional lights threaded through the trees.
And so we arrived at Selfridges. I remember visiting Selfridges as a child and the wonderful displays they had in their windows. Unfortunately this year was disappointing.
Bobbie Tree, Selfridges Design Manager, has gone for "Future Fantasy – A Christmas for Modern Times". His aim was to "rethink beloved festive stories, re-telling them through a modern lens. This is a next generation Christmas".
I must say I wasn't impressed. As one City Adventurer put it – "It's not very Christmassy." Using icy shades it does give a wintery feel but not a feel good feeling.
Join City Adventurers…..
……and come exploring
Join our club for people who want to find new adventures and live life to the full. Just click the link and join the club